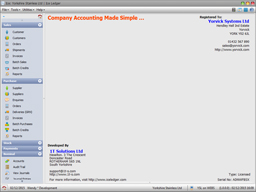 Ice Ledger is a comprehensive business accounting software for small to medium sized business that you will be able to download for free and start using immediately.
The system is absolutely free to use for a whole year - long enough for new start up businesses to get established and for established businesses to checkout each and every one of its long list of features without without spending a single penny.
There are NO restrictions of any kind and the software is guaranteed to be completely FREE of any adverts.
When it comes to Company accounting, Ice Ledger makes it simple and its just what the accountant ordered.
For further details, see our dedicated website for Ice Ledger, www.iceledger.com.